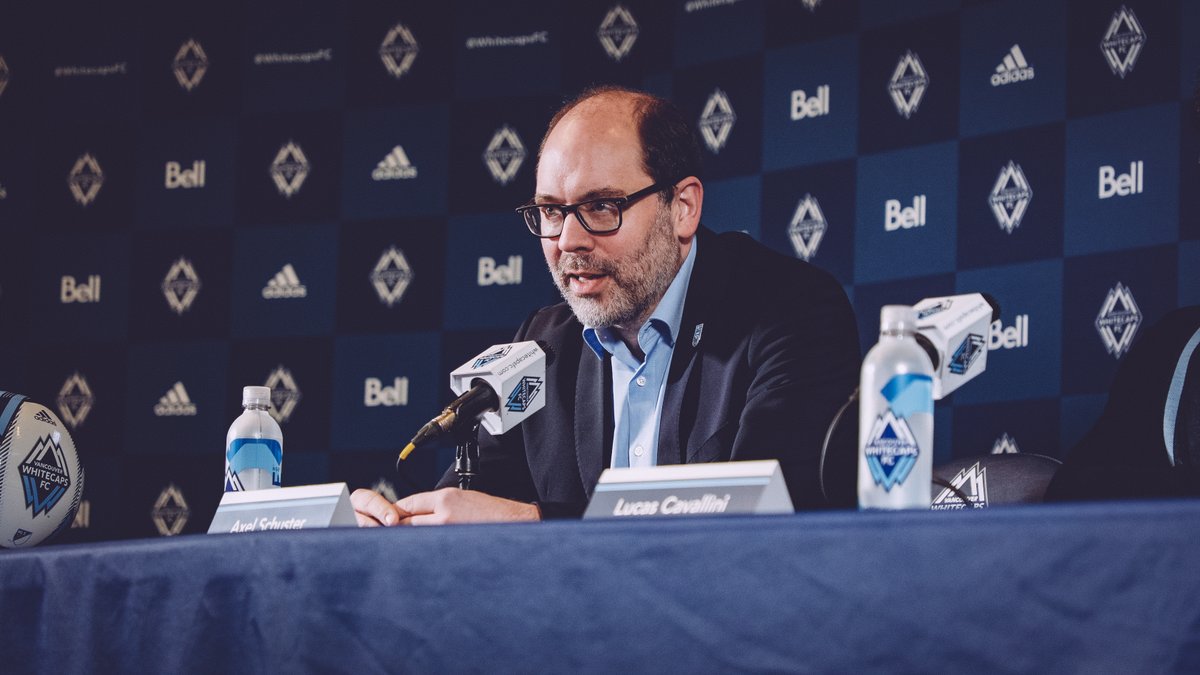 VANCOUVER, B.C – Whitecaps FC have been busy this week with a flurry of activity ahead of the start of the pre-season. Players will report for medical testing on Saturday, with the first on field session taking place on Monday, January 20.
A pair of Cristiáns have joined Whitecaps FC on free transfer. Quebec native, Cristián Gutiérrez signed from Chilean Primera División club Colo-Colo, and winger Cristian Dájome has signed from Colombian club Bogotá FC.
"We want to play a 4-3-3, for this system we need wingers," Sporting Director, Axel Schuster explained to reporters on Friday. "We signed Cava (Lucas Cavallini) at the top, but then we need some guys to feed him, Dájome is one of those that exactly fits to that."
The signing of 26-year-old Cristian Dájome has been a hot rumour for quite some time. Getting the deal completed and across the line took some time due to extra issues.
"A lot of paper work had to be done," Schuster said. "It was really easy to find a solution with the guys. They have been convinced that this is the right place. Then it was up to negotiating with the clubs, finding solutions, and getting all the paper work done. That was not that easy."
"It was already done since one week," Schuster continued. "Everything was signed. There had been some small issues that we had to be aware of, like paper work and some things."
Multiple reports suggested that Brazilian club, Corinthians was in hot pursuit of Dájome.
"Yeah, I don't don't know if it delayed," Schuster explained to Har Journalist. "It was for him to make a decision. It's good for us to know that there was other clubs that also have good names, and have been interested in him.
We were able to convince him that we maybe are the better next step in his career. He wanted to know about the coach, that he speaks Spanish. He wanted to know about the system where his position is really needed. At the end, maybe it delayed a little bit so he had more security that this is the right decision."
Ali Adnan 
The acquisition of Gutiérrez provides Whitecaps FC with some insurance at the left-back position. Gutiérrez will hopefully be able to bring competition on the left flank. If Ali Adnan needs a rest or is called up for national team duty, Gutiérrez could jump in and make a seamless transition. The 22-year-old brings much needed depth at full-back.
"In the moment maybe Ali (Adnan) leaves the club," Schuster said unprompted. "You never know in this business. Things can happen very fast. We have Adnan on our books right now. He's (Cristián Gutiérrez) absolutely fine with being a challenger for one year to compete for that."
The left-footed, left-back brought an explosive dimension to the Whitecaps FC attack last season. If Adnan is going to move on, Gutiérrez could be a clever underrated signing.
"No, no, no. I was telling… in this business in one year, a lot of things can happen," Schuster back-tracked. "You never know. We hadn't had a player behind Ali, now we have a guy who wants to show up, show that if this situation happens at anytime in the future, we have a guy that can play there. He knows he's a challenger and he will fight for that. We are prepared for the future. You never know what happens in this business."
Jon Erice 
The Whitecaps FC captain struggled to adapt to MLS life. As a holding midfielder, Erice had some bright moments early in the season. As the summer progressed he looked a step behind. The Spaniards 33-year-old legs found the bench.
"We had an open conversation," Schuster said. "He wrote us a WhatsApp message as well. There was nothing negative at the end. Of course this was not a very successful year for him. It was not the year he expected it should be. That happens in football. It's not the first time and it will not be the last time that things do not work out in the way you hope."
In 21 matches, Erice earned a pair of assists. Erice provided a brief statement this week.
"Thanks to Vancouver Whitecaps FC for giving me the opportunity to be a part of an incredible project that is sure to earn great results in the near future. Thanks to all the employees who are a part of the family and are essential for everything to work daily. Thanks to the city of Vancouver for receiving me so well. Good luck and the greatest success for the future."
No Promises 
Whitecaps FC could be in the market for another key addition. The possibility of acquiring a box to box midfielder before the end of the month could be in the cards. Vancouver will continue pre-season camp in San Diego on Friday, January 24.
"I cannot promise anything right now," Schuster revealed. "As ever we try to find the best solution and that's never the easiest. I'm very optimistic we will have one more signing before we leave to San Diego, but it's not a promise this time."
It's been a slow off-season in terms of on field additions, but Whitecaps FC look to be making moves to bolster their roster ahead of the season. Vancouver will open the season at home on Saturday, February 29 vs Sporting Kansas City.
Notes: Gutierrez will join the first team in time for training on Monday. Dájome will join Whitecaps FC in San Diego.